Are you ready for Voice over Internet Protocol?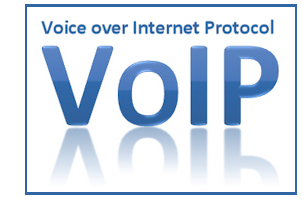 In past newsletters, we have compared "Copper" or analog telephone lines to Voice over Internet Protocol (VoIP) commonly referred to as "Fiber".
Due to the eventual abandonment of copper by companies such as Verizon and Bell Canada, we have discussed with our clients the inevitability of VoIP.
How to avoid the problems of disruptive installations and poor service.
Three things you need to consider going forward:
Will the changeover be easy and seamless or will it be disruptive to your business?
Will the voice quality be as reliable as the current analog service?
Will all providers of VoIP be able to establish and maintain excellent service?

Unfortunately, none of these questions has an easy answer. Issues occur when services are implemented by inexperienced providers.

Our goal is to enable you to converse over VoIP just as you would over an analog line.

Some of the signs of poor VoIP call quality are:
Jitter - commonly referred to as static or break ups in the conversation
Latency - commonly referred to as gaps or empty spaces in the conversation
Some of the causes of poor VoIP call quality are:
Poor Internet Connection - resulting in conversations that cannot compete with other traffic, usually data, utilizing the same "pipe".
Inadequate Internal Equipment - Routers are required internally to differentiate between voice and data traffic at your premise. With poorly configured equipment, call quality can be impacted by the other users on your network. As an example, if a user is downloading a large file without the proper prioritization from the router, call quality could be degraded.
Poorly Configured Internal Network - VoIP is more complex than analog lines. Voice must have a higher priority over data. If this requirement is not addressed, your company can have call quality issues.
We hope this newsletter has enumerated some of the complexities of a VoIP installation. If handled competently, your company can avoid the pitfalls.
For further information, contact Telecom Strategies staff at:
Contact@telecomstrategies.net

Telephone Number:
(844) 282-6400