Telecom Strategy for Winter 2015
Every year at this time, we read about the weather and its effect on business. Certainly this year is no exception as recent storms have shut down many a company, resulting in millions of dollars in lost revenue.

It is generally known that white collar workers are affected the least, as opposed to service industry workers and retailers. White collar individuals are, in many cases, able to work remotely from home offices, minimizing income loss. If anything, many may work harder and longer at home than if they had journeyed to an office. Their businesses are able to operate and sustain themselves throughout bad weather.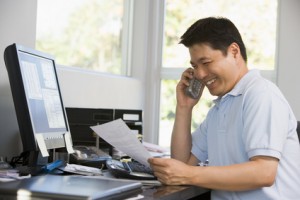 Working remotely, at one time, was frowned upon by most companies. The common expression was that "Working virtually was virtually working". The remote worker, having the luxury of functioning in private, was suspected of shirking duties because of an inability to manage them effectively.

With current and ever improving technology, many companies have taken the opposite approach. In many cases, expensive office space for every employee is considered both unnecessary and not cost justifiable. Through available technology, accountability and visibility can now be assured for management whether the employee is down the hall or down the road. Many an organization is now promoting the remote work option as an ecologically responsible strategy as well.

At Telecom Strategies, we are assisting companies in developing a modern, efficient and effective work environment that is impervious to bad weather. Our goal is to assure our clientele that they can be fully productive every business day of the year.

Contact us to discuss how your company can benefit from implementing a remote work option and be fully operational in any kind of weather.

Telephone Number: (610) 235-4340
E-Mail: contact@telecomstrategies.net
TELECOM STRATEGIES IS YOUR "OUTSOURCED" TELECOMMUNICATIONS DEPARTMENT!